Banning F gases: for more environmental friendly plug-in products
European Regulation n. 517/2014 requires a drastic reduction of the emission of greenhouse gases, with a reduction target of 79% by 2030.
To achieve this ambitious goal, different methods of intervention have been identified:
Limitations of sales of F-Gases
The European Regulation requires a progressive reduction of F-Gas (HFC), expressed in Ton of CO2 equivalent, introduced into the territory of the European Union.
From 1.1.2020 it will be forbidden to use gas in maintenance with GWP> 2,500, in systems with loads> 40 ton CO2 equivalent (about 10.2 kg of HFC R-404A), with the following exceptions:
Installations for military use;
Refrigeration systems produced at temperatures below -50° C (BBT);
Use of gas recovered from the plants and properly regenerated (the prohibition of the use of even regenerated gases will take place from 1.1.2030).
Restrictions/prohibitions of use on new installations
Commercial (hermetic) refrigerators and freezers containing F-Gas with GWP> 2.500 → from 1.1.2020, and with GWP> 150 → from 1.1.2022.
Fixed refrigeration systems containing F-Gas with GWP> 2.500 → from 1.1.2020.
Centralized systems for commercial refrigeration with capacity> 40kW, containing F-gas with GWP> 150 → from 1.1.2022, with the exception of the gases used in the primary circuit of a cascade system (for which a GWP is allowed < 1.500).
Summarizing… from January of next year, commercial refrigerators and freezers containing gas with GWP higher than 2500 will be no longer available – therefore with R404a gas for example – while from January 2022, those containing gas with GWP greater than 150 will be banned, therefore R407F, R452a, R448-R449-R134a.
The choices we make today, affect our future
Pastorfrigor is ready to face these pressing restrictions. Here the selection of Pastorfrigor products with R290, the gas we selected.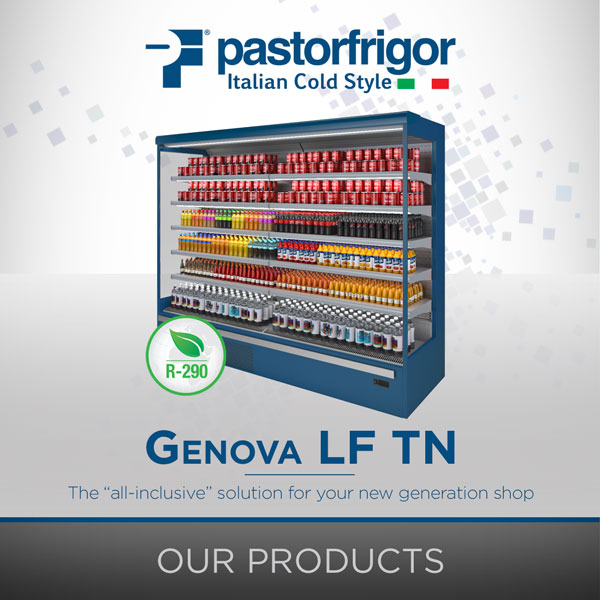 R290's thermodynamic properties are superior to both R134a and R404a. R290's heat capacitance is approximately 90% greater than R134a and 140% greater than R404a with lower viscosity. This means that R290 can absorb more heat, faster, resulting in quicker temperature recovery and lower energy consumption.
Refrigerant R290 is a hydrocarbon refrigerant (HC), it is a highly refined propane which is a safe and ecological alternative to hydrofluorocarbon (HFC) refrigerants.
What are hydrocarbon refrigerants? Hydrocarbon refrigerants (HC) are natural, non-toxic refrigerants that have no impact on ozone depletion and low Global Warming Potential. Hydrocarbons are among the most environmentally friendly and convenient refrigerants for cooling and freezing.
Current HFC refrigerants (R134a and R404a) have a high Global Warming Potential (GWP) that is harmful to the environment. The GWP expresses the contribution to the greenhouse effect of a greenhouse gas compared to Co2 which is considered with a potential 1. The lower the GWP, the better the substance for the environment. In comparison to gases, the R290 hydrocarbon has a minimum GWP.